A serious rift has emerged within the decades-old insurgency against Indian rule in Kashmir, with a top militant commander vowing to establish a Islamic system in the disputed Himalayan region and repudiating the goal of an independent nation.
Zakir Musa, the commander of Kashmir's largest anti-India militia, has explicitly distanced himself from the 70-year-old independence movement in the valley as well as from elements who wish to merge with Pakistan, declaring his fight is "exclusively for Islam, so that Sharia [Islamic law] is established here".
The pronouncements, issued in audio statements posted on social media in the past weeks, signal a growing ideological divide between Kashmir's old guard of separatist leaders, their traditional sponsor Pakistan, and a new, social-media savvy generation of rebels heavily influenced by radical Islam.
Musa, 22, has emerged in the past year as the leading face of the ongoing militancy in the Indian-controlled section of the former princedom that was divided between India and Pakistan in 1947 and is still claimed by both.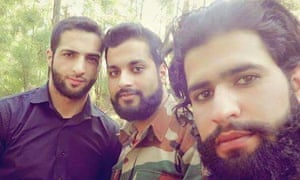 He succeeded another militant, Burhan Wani, as the commander of the militant group Hizbul Mujahideen. Wani's death last July in a clash with Indian soldiers triggered weeks of protests that paralysed the valley. Security forces killed more than 90 civilians and injured around 15,000, many permanently blinded by pellet guns.
Protests – including some led for the first time by young women – have broken out again in past weeks and by-elections in April saw record low turnouts, pointing to deep disillusionment among Kashmiris and raising fears of another bloody summer ahead.
Musa is part of a new generation of anti-India fighters whose numbers are small – roughly 210, according to police estimates – but who enjoy strong support among the public, and whose exploits and opinions are widely shared on social media.
"Everyone is with him," a student, Yawir, told the Guardian this week at Government Degree College in Pulwama, where last month students clashed with Indian security forces, triggering a wave of protests across the region.
"He is out there for martyrdom, he's out there for a sacred cause, how can I oppose him?" Amir, another student, said.
In a video statement circulated online in March, the bearded, softly-spoken Musa appealed to protesters such as the Pulwama students "not to fall for nationalism". "I see that many people in Kashmir are engaged in a war of nationalism, which is forbidden in Islam," he said.
The fight in the region should "not be for the sake of Kashmir," he said. "It should be exclusively for Islam so that Sharia is established here."
Another video released by the group in April went further, criticising Pakistan, a traditional source of money, militants and equipment for separatist groups in the valley.
Appropriating the slogan of Al-Qaida in the Indian Subcontinent, a local branch of the terrorist group, an unnamed militant is shown telling villagers: "This war is for Sharia or shahadat (martyrdom)."
"Pakistani flag is not part of Sharia," he says. "Why do you wave the Pakistani flag? Anyone who waves the Pakistan flag will be our enemy."
The militant praises the Taliban "because [it] wants an Islamic system in Pakistan", adding: "We do love Pakistan because that country was created in the name of Islam. But there is no Islam [there] at present, so we are unhappy with it. We have to do jihad with Pakistan as well."
Before his death, Wani had appeared to drift towards the rhetoric of global Islamist movements such as al-Qaida, calling in 2015 for a "caliphate [to be] established in Kashmir". But he had stopped short of disowning the independence movement or criticising Pakistan.
The hardening position of the militant group has put pressure on older leaders, some of who took up arms during the first wave of militancy in the 1990s, but have since turned to politics to achieve their ends.
Last week the All Parties Hurriyat Conference, an alliance of Kashmiri separatist groups comprising the traditional leaders of the movement, issued a careful press release that appeared to distance itself from the militants' comments.
"Terrorism and freedom movement are poles apart," it said. "Our movement has nothing to do with these world level groups [Islamic State and al-Qaida] and practically they are non-existent in our state."
Their statement drew a response from Musa labelling the leaders of the alliance hypocrites and warning he would "chop off their heads and hang them at Lal Chowk" – a main street in Srinagar – if they became "a thorn in our way to establishing Sharia".
After Hizbul Mujahideen's supreme leaders in Pakistan distanced themselves from his comments Musa announced he had quit the movement.
Indicating the tension around the dispute, one senior separatist leader abruptly terminated an interview with the Guardian when pressed on the issue. "Everybody wants India to quit Kashmir, that is a collective voice, whether it's young, old, this is the message," he said.
"In every movement, every society, in every nation, there are different thoughts … We have said and we will reiterate it: let the people first decide, the right of self-determination, what they want, then people can decide themselves about the system."
Police said they were watching the dispute closely. "Time will tell, but it is definitely an important shift," said SP Vaid, the director-general of the Jammu and Kashmir police service.
In his office in Srinagar, Vaid said the embrace of a more radical ideology by Musa's militants presented an opportunity for authorities to peel away their public support. "The average person in the valley is not a radical," he said. "If militants take this course, people will definitely get alienated from them."
He said he was unconcerned about the other risk: that Musa's identification with jihadi movements such as al-Qaida might increase the terrorist group's support in a region where it has struggled to gain traction. "I don't think it will happen, knowing the mind of Kashmir people," he said.
Ayesha Siddiqa, an expert in Pakistan military policy, said the shift towards global jihadi ideology reflected "a lot of disappointment with Pakistan by these militant groups".
She said the supply line between Islamabad and Kashmir "was cut, or at least had a sizeable reduction" in the years after the 11 September 2001 terrorist attacks, as Pakistan came under pressure to abandon its support for overseas militancies.
"There has been the realisation [among militants] that Pakistan is another country, and ultimately it will compromise based on its national interest," Siddiqa said.
She said the argument between Musa and older leaders was "a very interesting debate worth watching". "If it gets popularised, it will completely change the character of the Kashmir struggle, which was secular, to something that a lot of people would not want," she said.
"What is worth watching is the capacity [of younger militants] to push out the old stakeholders. It's the youth, it's the new, and digital warriors are today very dangerous. These are the warriors who have managed to get people out on the street."
In Tral, Musa's southern home town, a close family member expressed concern for the safety of the former engineering student.
"He has become Islamist and it will create more problems for him," they said, requesting not to be identified to avoid scrutiny by Indian security forces. "Now I am more worried for him. He will have enemies on all sides."